Books
---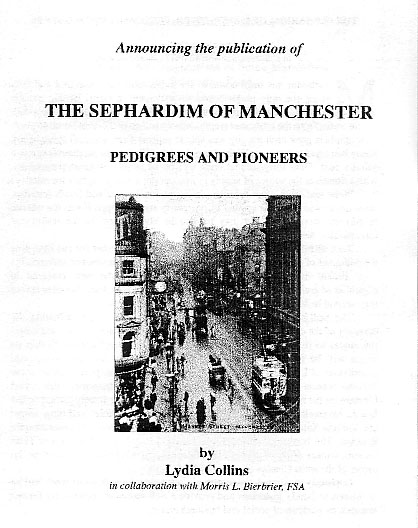 THE SEPHARDIM OF MANCHESTER. PEDIGREESAND PIONEERS
By Lydia Collins
In collaboration with Morris L. Bierbrier FSA
Manchester has been home to the Sephardim for a hundred and fifty years, the only major Sephardi settlement in Great Britain outside London. They were drawn to Manchester, the centre of the Lancashire textile trade, from the early nineteenth century and over the next hundred years their numbers grew until the city was able to support three Sephardi synagogues.
Many belonged to long-established merchant families in the Mediterranean and Middle East. Their international trade was based largely on kinship networks. With a branch at the source of supply in Manchester acting as agents for relatives back home and often other branches in Egypt and Central and South America. Manchester was seen as a symbol of prosperity and in Aleppo it was the custom to add the words "…and may he live in Manchester'' to the traditional circumcision blessing of infant sons.
THE SEPHARDIM OF MANCHESTER brings together for the first time the pedigrees of more than 100 families associated with Manchester and contains over 10,000 names. Using private family sources and new research in unpublished archives in Britain and overseas it also traces many families before their arrival in Manchester and branches in other countries.
The pedigrees are arranged according to area of origin reflecting the diversity of the community. There are explanatory notes and sources, and cross- references to illustrate the many intermarriages between families. Within its pages will be found isaac Belisha, first President of the community and grandfather of Lord Hore-Belisha who as Minister of transport introduced the Beligha beacon to Britain's roads; Michele Besso. Collaborator with Albert Einstein on the formulation of the theory of relativity; the society photographer Baron; Maxwell Setton, producer of "I was Monty's Double'' and other films; and Victoria Kamhi, wife and amanuensis of the blind Spanish composer Joaquin Rodrigo. The book throws new light on the background of the writer Elias Canetti, winner of the Nobel Prize for literature, and his wife Veza; and on the career of the artist Charles Spencelayh RA.
Copiously illustrated, the wealth of data contained within this work will be of interest to family historians and provide a rich source of material for further search by students of serial and business history.

If you would like to make any comments or contribute to The Scribe please contact us.