Community
---
ALBERT DANGOOR 1918 - 2005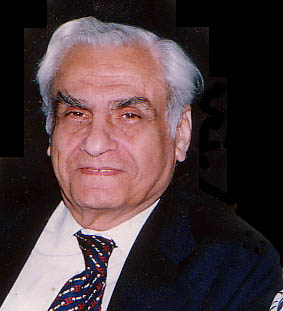 Albert Dangoor was born in Baghdad, the ninth child to Massouda and Sion Hakham Ezra Dangoor. He Studied at the Alliance School. In 1937, he went to London where two of his elder brothers Niazi and Abdulla were already established in business. He attended Nottingham University where he read economics. After finishing University, he joined his brothers in their import- export business and remained in London throughout the Second World War.
In 1952, there was a family reunion in Paris where he met his cousin Doreen, daughter of Khatoun and Eliahou Hakham Ezra Dangoor, He had not seen her since he left Baghdad and later that year, in November, they were married in Paris and settled in London.
Eventually Albert began working on his own and established an import-export business of oriental carpets. His knowledge of carpets, honesty and high standards led him to become highly respected by all those he came into contact with, both in and out of the Industry, during his working life and beyond. He would always be there to offer a helping hand, be it in business or otherwise to family, friends and business colleagues alike.
Albert was one of the most genuine, sincere and honest people that one could ever hope to meet. He did what was right and spoke the truth from his heart.
Albert was first and foremost a loving, dedicated family man, who was never happier than being with his family. He is survived by his wife Doreen, children Sandra and Robert, and grandchildren Natasha and Lisa, who will continue his legacy in the community.

If you would like to make any comments or contribute to The Scribe please contact us.