List of Pathan Presidents
sent by Taimur Khan
Sir Syed Ahmad Khan
Syed Ameer Ali
Ali Brothers
Nawab Viqar-ul-Mulk
Nawab Mohsin-ul-Mulk
Aga Khan
Liaquat Ali Khan
Muhammad Ali Jinnah
Allama Iqbal
Fatima Jinnah
Begum Shah Nawaz
Begum Viqar-un-Nisa
Choudhary Rahmat Ali
Chaudhary Muhammad Ali
Feroz Khan Noon
Khawaja Nazimuddin
Ghulam Muhammad
Muhammad Ali Bogra
I. I. Chundrigar
H. S. Suhrawardy
Iskander Mirza
Zulfikar Ali Bhutto
Yahya Khan
Sheikh Mujibur Rehman
Muhammad Ayub Khan
Gen. M. Zia-ul-Haq
Muhammad Khan Junejo
Ghulam Ishaq Khan
Ghulam Mustafa Jatoi
Benazir Bhutto
Sardar Farooq Ahmad Khan Leghari
Malik Meraj Khalid
Mian M. Nawaz Sharif
Muhammad Rafiq Tarar
Gen. Pervez Musharraf
Yahya Khan
General Agha Muhammad Yahya Khan was born at Chakwal in February 1917. His father, Saadat Ali Khan, was actually from Peshawar. After finishing his studies at the Punjab University, Yahya Khan joined the Indian Military Academy at Dehra Dun. He was commissioned in the Indian Army in 1938. His early postings were in the North-West Frontier Province. During World War II, he performed his duties in North Africa, Iraq and Italy. After independence, Yahya Khan played a major role in setting up Pakistan Staff College at Quetta. During the war of 1965, he commanded an infantry division. He was appointed Commander-in-Chief of Pakistan Army in 1966 with the rank of General.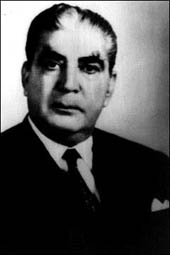 In 1969, when the situation went out of Ayub Khan's control due countrywide agitation, the President decided to hand over power to the Army Chief, General Yahya Khan. Yahya Khan immediately after getting powers declared Martial Law in the country on March 25 1969 and assumed the title of Chief Martial Law Administrator. He terminated the constitution and dissolved National and Provincial Assemblies and Governments. On March 31, he also became President of the Islamic Republic of Pakistan.
Unlike other military rulers who ruled Pakistan, Yahya Khan was not interested in prolonging his rule. Immediately after taking the charge of the country, Yahya Khan started looking for the options through which he could hand over power to the elected representatives. On March 29 1970, through an Ordinance, he presented an interim constitution: The Legal Framework Order. The Legal Framework Order was actually a formula according to which the forthcoming elections were to be organised. It goes to the credit of Yahya Khan that the first General Elections in the history of Pakistan were held during his regime.
---
If you would like to make any comments or contribute to The Scribe please contact us.