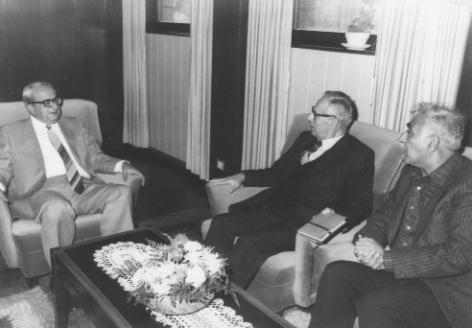 I have the pleasure to introduce myself to your good person and thank you for The Scribe card duly received. The Scribe is a highly interesting magazine for me to read. As such I am enclosing herewith a US$20.00 cash note in payment for the copy of the coming "Rosh Hashanah" issue.
The undersigned is a past member of the Histadruth Management Body, also a member in the "WOJAC" management organisation. At "WOJAC" Congress held in Paris in 1975 and at the "WOJAC" Congress held in London at the year 1983, I had the pleasure to meet you in person (if you remember) in my capacity as a member in the aforesaid organisation.
My engagement in the Histadruth was for a long time, during which I befriended prominent personalities in the Israeli Government and in particular, I mention Mr Yitshak Navon was so intimate that he graciously agreed to have a photo with me and with the late Dr Mansour Nourallah (a good friend of mine); in the left side of the picture the ex-President, Mr Yitshak Navon appears, in the midst the late Dr Mansour Nourallah and at the right side appears the undersigned. The late father of Dr Mansour Nourallah, the late Dr Nourallah who died in Baghdad in the year 1953, was a very well-known person in the Baghdadi society for his kind and helpful attitude to the sick, poor and needy persons who used to flock to his clinic throughout the period of his life.
Dr Nourallah, who was a very sociable person, wrote a lot of his experiences and memories which happened to him in his life, covering jokes and short stories. His son, the late Dr Mansour Nourallah, gathered all these memories of his late father and printed them out in a book which I take pleasure in sending you under separate cover a copy of. I hope you'll enjoy reading it.
In Israel, the late Dr Mansour Nourallah, who was attached to the Histadruth Organisation, followed his father's tradition. He was highly esteemed and loved by the Iraqi community, who used to attend to him for medical treatment.
In view of the foregoing, I would be highly obliged to you if you will insert the attached picture, a historical one, in your coming "Rosh Hashanah" issue of The Scribe, and thank you so much in advance for this favour.
David Cohen
Bnei Brak, Israel
Reply:
Thank you for your letter which is receiving attention.
Thank you for the book of jokes which appears to be the same as the original I had many years ago.
---
If you would like to make any comments or contribute to The Scribe please contact us.